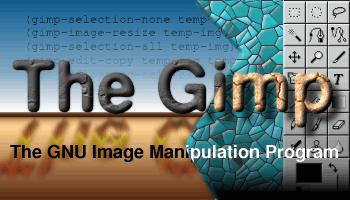 What is the GIMP
The GIMP is the GNU Image Manipulation Program. It is a freely distributed piece of software suitable for such tasks as photo retouching, image composition and image authoring. This site contains information about downloading, installing, using, and enhancing GIMP. This site also serves as a distribution point for the latest releases, patches, plugins, and scripts. We also try to provide as much information about the GIMP community and related projects as possible.

Where can I get The Gimp?
Easy. From this site. Just look at the Download section. There you'll find the latest stable and the current development version.

What about Gimp for Windows?
This is the question we get the most mail about. Yes, there is GIMP for Windows.

Fresh from the Press... Sunday, April 8th, 2001

GIMP 1.2.1 Running On Mac OS X
We now have GIMP 1.2.1 compiled and running on Mac OS X. Screenshots etc. at http://www.macgimp.org/.

New Mpeg PlugIn
Wolfgang Hofer released a new Mpeg PlugIn for GIMP. It is based on the libmpeg3 and can load frames from Mpeg1/Mpeg2 Video and can extract Audio to .wav files.

GIMP Context Help
GIMP will be getting its own animated context help, very similar to the Microsoft Paperclip, courtesy of Anders "Hadjaha" Carlsson. He has prepared a helper screenshot of his work in progress.

GIMP Bug Database Update

A few days ago, the old bug database for the GIMP and GNOME has been replaced by a brand new Bugzilla. Many web pages are still pointing to the old database (bugs.gnome.org) instead of having links to the new one (bugzilla.gnome.org). In order to help you to update your pages or bookmarks, here are some links that could be useful. Click on these links to see what you get, and then bookmark the resulting page if you like it.

GIMPFORCE!
Drop everything you are doing right now and go visit GIMPForce.org. It's a creation of the GIMP User Group and has galleries, tutorials, polls, and news.

/binBUCKET Has GIMP 1.2.1 Binary Package
Naturally, GIMP 1.2.1 was announced two days after /binBUCKET released packages for GIMP 1.2.0. Now /binBUCKET has GIMP 1.2.1 (and other packages) available.

New PyGIMP Release
A new release of the python bindings for GIMP has been released. This version is suitable for use with GIMP 1.2.x.