MP3 is not the best audio format, not for the quality, not for the file size not even for the ratio. However it's popular and it makes it to be a standard. I'm not going to advocate or criticize it, and I'm not going to tell you what is it and how does it work, but I will tell you what programs I use to work with MP3. The process has several stages:

you need to extract data from CD to your computer (rip) - it will create .wav files on you hard drive, which are perfect quality, but uncompressed thus very big.
next step is to convert them to .mp3 files (encode) - there is no way to do it without loosing quality, but it can be very small loss and a significant gain in minimizing the size.
Last step is most pleasant one - to listen, and in our day it even may be transparent for you, but still it might be that you need a special program to do it.
First step is very critical for the good quality, and unfortunately most programs don't do it well at all. Most famous best quality ripper is CD Paranoia, but it's available only for Linux, and I used it for a while, but Linux is not my main platform, so I had to look for an alternative (win32) solution. I've done some research and experiments with different programs, to find out that all of them are not doing what it take to get best possible quality from CD - except for one. Exact Audio Copy [exactaudiocopy.de], today it's still in Beta, but it's stable and work well. Right now I use version 0.9 (prebeta 9) - it's postcardware [$0 + postcard&stemp sent to creator], german-made and in win32 world is the best I found. Exact Audio Copy also have a simple, yet good sound editor, which you can use to crop, join etc.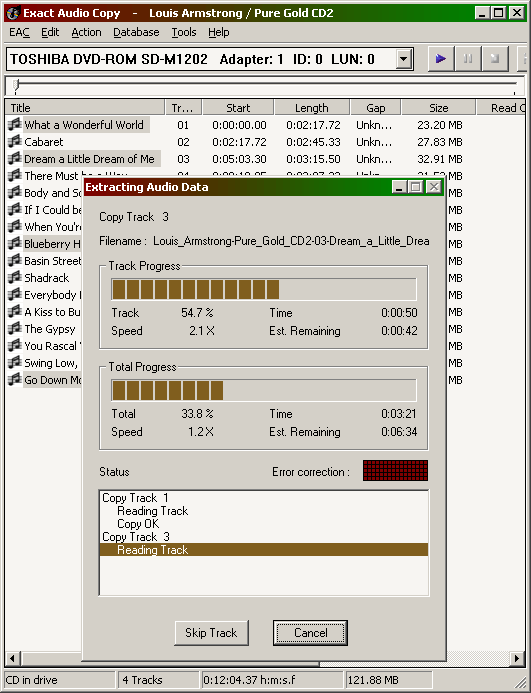 To encode I use BladeEnc (Blade Encoder) - currently version 109.125, but it's a command line program, and even though it's fine to use it as is, I personally prefer a GUI interface and since BladeEnc is a very popular program there are bunch of Front Ends, I use RazorBlade version 1.4.1, they actually have RazorLame as well. Lame is another high quality encoder. As far as I know those are the only two that can give you high quality when encoding. Another important setting is to encode with high bit-rate. To be brief I would say that quality of sound in MP3 is measured in KiloBit (per second). Right now 320Kbit is the highest that BladeEnc can do. I personally use 256Kbit one and still thinking to start doing 320. 128 is definitely too low, yet most popular. I'd say that I can hear the difference even on cheap PC speakers. BladeEnc is free and RazorBlade is postcardware.


There are tons of programs to listen, my favorite is WinAmp, I use version 2.7.2, yet version 3 will be available soon and it suppose to be much better. WinAmp is free, plus it support skins, I used to play with many of them, finally I end-up finding few that I like and created one myself out of them - [dimka-aqua.wsz - 90Kb]. It all has visualization studio that is cool for parties, but I don't really use it.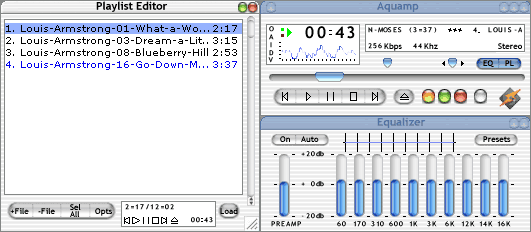 WinAmp can be minimized to tray or any component can be in a compact form that virtually has most of the functionality.