I watched two movies - The Darjeeling Limited and a short film that sorta adjacent - Hotel Chevalier. Directed by Wes Anderson (Life Aquatic, Royal Tenenbaums etc.) super good. as always, it was very much in his style, very family style, unpredictable, somewhat untold, sensible, humorous and not without some touchy moments.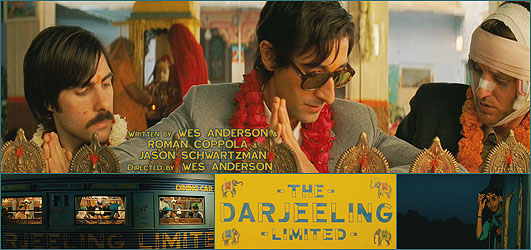 hotel chevalier was filmed a year ago and it's about one of the main characters (from the main film) Natalie Portman stars as the other main character (btw, i think she had told before that would never act naked in movies, oh well, here she did that). i had a feeling that dialogs in that film were recorded in my bedroom! it's really damn good short film.





After the movie Wes Anderson, co-sritpwriter Roman Coppola as well as co-scriptwriter and the actor who played in both Jason Schwartzman told us about the process, atmosphere and the story behind the movies. and of course they are close friends or even relatives. action takes place in india and some insights about the country were very interesting.