My 2021 setup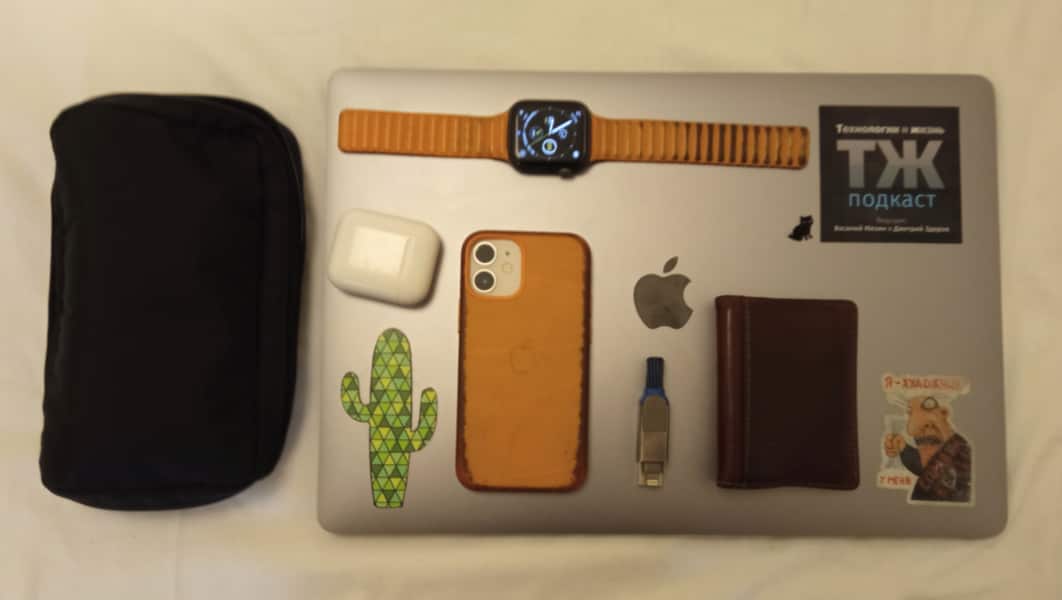 I use many different devices, apparently too many, even by my own standards. But I want to tell you what and even a little bit why.
My most essential devices are MacBook Pro, iPhone, and Apple Watch. But of course, it is not limited to them.
I've had 2019 16" MacBook Pro for 2+ years now, the model with the butterfly keyboard returned. It works great, and I hesitated for a while choosing between the 13" and 16" models and ended up taking the bigger one, and I'm happy with it. Still pretty compact; the screen is excellent.
The fact that there are only thunderbolt ports doesn't bother me that much. I've been trying to get everything with USB-C for about 6 years now, so most of my peripherals fit without any adapters. I still carry it mainly in a Patagonia backpack. It's visually relatively compact, yet it's not too hard to use. I used macOS Catalina most of the time, but a couple of weeks ago, I switched to macOS Monterey 12.1. Nothing in the MacBook in two years has malfunctioned. It works perfectly. But during this time, all the accompanying gadgets have changed a lot.
I use the charger that comes with it only at home and not as the main thing, but at the bedside. As the main thing at home, I use ADG Charger/dock. I'm delighted with it. I recommend it. I use the Moshi cable for that. Sadly, there are no other similar solutions on the market yet. It's mega convenient, but only for charging due to transfer speeds, it's USB2 for data and it's pricey. Thus I still carry another cable on the road: a USB-C 10Gpbs, 100w from Costyle. And the charger itself is Aukey 65W GaN, with a European plug (the same with the American is even better, well, if you are in North America or Japan, Thailand, etc.), it has two ports, one for USB-C, one for USB-A. There are many similar products now, but I like Aukey a lot, every item I got from them works reliably, I can't say the same about Anker or Belkin for example.
I have it all with me in the backpack mentioned above, where the MacBook is just lying in a special pocket. I do not use a separate sleeve. Everything else is in a small zipped black tech pouch from Muji. In addition to the charger, there is USB-C to USB-C cable, USB-C to Lightning, USB-C to Magsafe-2, and a few micro adapters for many different cases. One Apple wired Lightning headphones, one Sandisk flash drive, a micro container for my sim cards, and a permanent marker. And there's also my passport and Apple Airtag. Convenient. Especially if my bag menu is just not to forget anything. so I do not take it out at it home.
Instead of the keychain, I use Incharge-x — it is a short universal cable with and to USB-C/A/Micro/Lightning 100w, 10Gbps. Mega convenient, when it goes on sale again, I recommend it.
In my pockets, I have an iPhone 12 mini (in a leather case), AirPods 2, and a small leather wallet on my wrist Apple Watch Series 4. It was Leather Link that ended up being the most comfortable for me.
I also have an iPad mini 5, Apple Pencil, and the standard cover. Sometimes I carry it with me.
I also have a pretty dated 2012 Mac Mini. I've put a couple of SSDs in it and a 16GB RAM, and it's doing a great job as a desktop at home. I've got an OWC Thunderbolt-2 dock, a wired compact Apple Keyboard, a USB-C FiiO K3 amp and M-Audio Studiophile BX5a Deluxe 70W 5" Studio Monitors (speakers), a 10-bit Iiyama ProLite XUB2792QSU-B1 27" on the arm, USB-C mic - Thronmax Mdrill One Pro, Apple Magic touchpad, Jelly Comb MS04 mouse, and Pioneer SE-A1000 headphones.
Occasionally use my old 2013 11" MacBook Air. It works great, and there is no compact replacement yet. For it, I always carry USB-C to Magsafe-2 cable in my bag, so I don't forget, in case I just decide to go light that day.
Of course, there is also a massive pile of other devices, such as: CalDigit USB-4 Element Hub, Xiaomi Redmi 9, a bunch of different SSDs, mostly from Adata, Synology DS720+ NAS with a couple of 14TB Seagate Exos X16 drives, Xiaomi AX1800 WiFi6 Router, etc.
Some of it is, of course, time to upgrade, but everything is working fine so far. I have my eye on iPad mini 6, iPhone 13 mini, AirPods 3, and want as of yet unannounced new Apple Mac mini on M2 Max (or M1 Max), Loupedeck CT (or at least TourBox Elite)
That's the gear I use entering 2022.
What software I use and why is a whole big subject, as well as different cables shall be discussed in further detail, of course. It turns out everything isn't so simple after all. Those will be topics for separate posts.
Tags: hw, gatgets, recommendations, my setup, apple